Details

Published on Tuesday, 06 July 2010 11:19
If you have ever listened to traffic reports in the afternoons of WBBM-AM, you know his voice. Joe Collins has been doing traffic on WBBM for over ten years. Officially, Joe Collins works for Shadow/Metro Traffic, where he has worked on and off (mostly on) since Dec. 31, 1987. Before that, Joe's voice was heard on numerous suburban stations since 1980.
For a very long time, Joe Collins has helped so many hundreds of thousands of Chicagoans navigate Chicago's roadways each day. Now Joe Collins needs our help...
About a year ago, Joe was diagnosed with Muscular Dystrophy (MD), which is a group of genetic disorders that that cause muscle weakness and loss of muscle tissue that only gets worse over time. Many people with MD eventually lose the ability to walk and to function normally without assistance. There are no known cure for any of the various muscular dystrophies. Unfortunately, all that can be accomplished are treatments to control the many symptoms -- most often via physical therapy and orthopedic devices.
In addition to his many years on radio, Joe Collins has also been actively involved with Chicago area theater groups for over thirty years. A fine stage actor, Joe Collins picked up an award in 2008 for "Best Performance" for his work in "Moon Over Buffalo." One of those theater groups he has been so active with, the Beverly Theatre Guild of Chicago, is sponsoring a benefit event for their long-time member and friend, Joe Collins. The fundraiser, called "
The Show for Joe
," will be held on later next month.
The following words (seen in yellow, italicized font below) are from Cheryl Cooper, the Chairperson for this event, sent out the following email late last week to friends of the Theatre Guild of Chicago:
Dear Friend of Joe Collins,

As many of us know, Joe Collins (the voice of "Shadow Traffic" on WBBM News Radio 780) has been battling the effects of Muscular Dystrophy (MD), a genetic disorder that causes weakness in the muscles that allow the body to move. While often associated with children, it is not uncommon for the disease to attack older adults. People with this disease gradually lose their ability to do most of the things that we take for granted, such as walking, standing, or sitting up. All types of Muscular Dystrophy have one common problem and that is the progressive weakness and wasting of the body's muscles . . . and, there is no cure.

Joe has brought a special brightness to our lives through his humor, compassion and joy of living. As he fights his battle, let's support him and celebrate our friendship. Join the Beverly Theatre Guild in showing our support for a good friend.

Joe's in a jam --- Our friend Joe is going through a tough time as everyday activities are getting more difficult. Cooking, cleaning, driving -- all those things we do regularly without much thought -- are daily challenges for Joe. We all want to see him continue actively among us. All proceeds of our "Show for Joe" gala will go directly to Joe to use as he needs to help his quality of life.

Sincerely,

Cheryl Cooper, Chair
"Show for Joe" Fundraiser
"
The Show for Joe
" fundraiser will be held on Saturday, August 21, 2010, at the Garden Chalet Banquet Hall, located at 11000 S. Ridgeland Avenue in Worth, IL, from 7:00pm to 11:00pm. In addition to a show for Joe, there will be raffle prizes and much more. Tickets are only $25 in advance or $30 at the door.
Those who wish to purchase tickets in advance, can do so by calling 773-BTG-TIXS (773-284-8497). You can also purchase tickets or simply make a donation by mail, by printing out and filling out the pdf form found at this link
HERE
.
Monetary donations can also be sent to:
Cheryl Cooper
13436 S. End Lane
Crestwood, IL 60453
708-897-0783
The organizers of this event are looking for special raffle items to help raise the much-needed funds. Raffle items can be sent to:
Bobbie Maty
9121 S. Turner
Evergreen Park, IL 60805
708-422-6338
or
Barbara Lenihan
3926 W. 102nd Street
Chicago, IL 60655
773-239-8344
The Beverly Theatre Guild is a registered 501(c)(3) not-for-profit corporation under the U.S. Internal Revenue Code. Contributions are tax deductible to the extent permitted by law.
More information can be found on the Beverly Theatre Guild of Chicago's
website
.
On Joe Collins'
Facebook pages
, his Bio simply states:
"I believe in the Golden Rule: Do unto others, etc."
After so many years of giving to others, it's time we followed the Golden Rule and gave back to Joe Collins.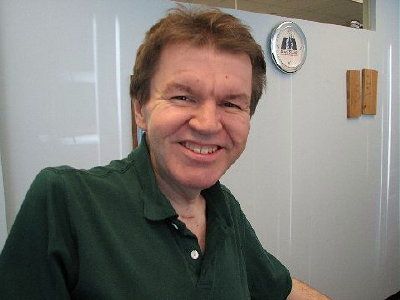 Joe Collins from a few weeks ago.
Photo by his friend & co-worker, Bart Shore.