Details

Published on Friday, 23 December 2011 14:15
In today's News & Notes, the stockings are full of local media news items, including: Jason Cage sells some not-so-white undies online, Lou Manfredini sings for charity, WXRT's charity CD is gone, Bob Stroud rocks your Christmas morning, NAVTEQ comes to your GPS, Justin Kaufmann moves into programming, WBEZ programs some holiday specials, Steve Cochran counts down the year, Abe Kanan & company break a news story, Sludge will be enjoying some Philly Cheesesteaks soon, WGN Morning News has a successful toy drive, CSN Chicago breaks a record, Svengoolie celebrates the holiday with some Martians, Paula Faris is in a New York state of mind, Carol Marin is recovering, and more... all found just below...
* * WBBM-FM's Jason Cage came up with a unique way to raise money for charity. Cage personally had many of the stars of B96's sold-out Jingle Bash concert sign a pair of oversized white underwear briefs. Signing the tidy-whities were Joe Jonas, Keenan Cahill, Karmin, Sammy Adams, members of Cobra Starship, and "a blob that may or may not be LMFAO." The underwear were then placed on
eBay
with an opening bid of $10. The winning bid was $76. Proceeds from this bizarre fundraiser will go to The Salvation Army.
* * WGN-AM's "Mr. Fix-It" Lou Manfredini and his producer Lindsey Kreutzer-Smithwick recorded a version of that wintertime classic song "Baby It's Cold Outside." The song can be downloaded for free at this link
HERE
, however, they are asking that you donate $5 for the WGN Neediest Kids Fund. A link to donate is also provided on that page. The singing by Lindsey Smithwick is surprisingly exceptional. (No offense to Mr. Manfredini or his voice.)
* * Chicagoland Target stores are reporting that WXRT-FM's newest charity CD,
"ONXRT: Live From The Archives - Volume 13"
has completely sold out. The limited edition disc was just released on December 6th and sold exclusively at Target. There are no plans to press additional copies of the disc, even though this initial pressing is now seemingly gone. Proceeds from the sales of the CD went to support the work of Lincoln Park Community Shelter and Partners in Health.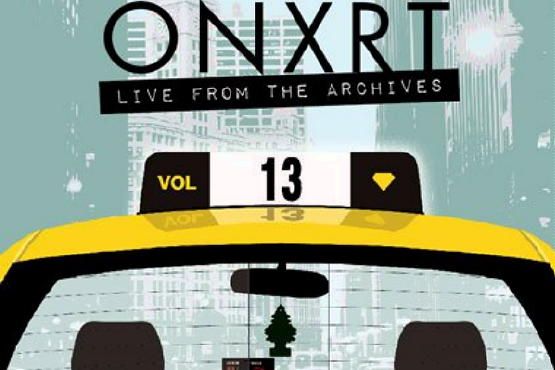 * * On Christmas morning at 7:00am, WDRV-FM will a special version of its "Rock 'N Roll Roots" program. Host Bob Stroud will have a "Holiday Hootenanny," having fun with some of the best rock & roll X-Mas songs from the classic rock era.
* * Chicago-based radio traffic news update provider NAVTEQ announced that it is the exclusive provider for traffic updates for a new Garmin GPS device. This NAVTEQ Traffic update service is now available on
Garmin's nuvi 3490LMT
, with updates be delived via HD Radio every 30 seconds.
* * Justin Kaufmann
announced on his WBEZ.org blog
on Wednesday that he has been promoted to Executive Producer of Midday at WBEZ-FM. In this newly created role, Kaufmann will oversee programming between 9:00am and 4:00pm on the Chicago Public Radio station. Kaufmann has been with WBEZ in varying capacities since October 1994 and most recently held the title of Senior Content Developer, overseeing website content. His blogs for WBEZ have always been extremely humorous looks at current events, which is to be expected, as Kaufmann is also an owner & member of the long-running Chicago comedy ensemble, Schadenfreude. Kaufmann may also be remembered for his fake, but funny run at the Chicago Mayoral office as "53rd Ward Alderman Ed Bus." His plans for WBEZ-FM's midday schedule look to be a little more serious, however.
* * Speaking of WBEZ-FM, the station will have a pair of special Christmas offerings this weekend. On Saturday night from 8:00pm-10:00pm, the station will air "Holidays Unwrapped: Audio Gifts From WBEZ." This special will explore stories that look at various holiday traditions, including a man who becomes Santa each year, a reporter who found the spirit of Hanukkah while traveling abroad, one family's Christmas tamale making tradition, the back story on figgy pudding, and more. On Sunday from 5:30pm-7:00pm, WBEZ will air the Chicago-based American Theatre Company's production of the classic Frank Capra film "It's a Wonderful Life." This radio play was originally recorded in November 2009.
* * Instead of the usual "Best of" shows or no-name fill-in hosts that tend to work the last week of the year, Steve Cochran has come up with a unique programming offering for his afternoon show on WIND-AM. Each day next week, Steve Cochran will be doing a 2011 Year in Review show, counting down the Top 50 news stories of the year (10 per day). The well-produced five-days of specials can be heard next week from 5:00pm-7:00pm on AM 560.
* * The Chicago-based Sirius/XM talk program "The Abe Kanan Show," starring Chicago radio personalities Abe Kanan, Ryan Manno and Dan Levy, broke some exclusive news this week. In an interview with the show's hosts, retired NBA superstar Shaquille O'Neal revealed that he has been in talks with the WWE regarding doing some work with them. What could very well be in store for Shaq is a huge wrestling match-up with him against The Big Show. This would take place at Wrestlemania 28 at the Sun Field Stadium in Miami, FL on April 1st. The story has spread like wildfire via the Internet, with many of the articles stating that Shaq gave this news to a "Chicago radio show," without naming the show. "The Abe Kanan Show" is broadcast live from Chicago every Saturday from 4:00pm to 6:00pm on Sirius/XM's Howard 101 channel (with a replay on Sunday afternoons).
* * Although he can't say
which
rock radio station just yet, former Chicago radio personality Sludge (WZZN-FM/WKQX-FM) looks to be heading to Philadelphia and his first day on the air will be January 3rd. Sludge just signed off from the station where he has been the popular morning show host since June 2010, Phoenix, AZ's rocker KDKB-FM.
* *
WGN-TV's 9th Annual WGN Morning News Drive-Thru Toy Drive
, which concluded on Tuesday, was able to raise a new record sum of toys, as over 25,000 were donated. All toys were donated to Jennifer Hudson's Julian D. King Gift Foundation and will now be handed out to needy Chicago children on Saturday. Additionally, AT&T made an announcement to Jennifer Hudson at the event, surprising her with a donation of $10,000 to her Foundation.
* * Comcast SportsNet Chicago's broadcast of the Chicago Bull's second pre-season game on Tuesday night delivered the highest-ever ratings for a Bulls pre-season game in CSN's history. The Bulls-Pacers exhibition game brought in a 4.62 household rating, reaching approximately 161,400 total households in the Chicago market, peaking at a 5.13 rating (over 179,000 total households). This breaks the previous pre-season Bulls game record (3.2 rating) set on October 11, 1997 when Michael Jordan was still on the team. Last year's Chicago Bulls regular season television broadcasts set new records for the regional sports network. Tuesday night's game is a good indication that those records from last year could be shattered once again with this coming season that starts next week.
* * One great way to get into the Christmas spirit on Saturday will come from WCIU-TV's Svengoolie. On WCIU's digital sub-channel The U-Too, Svengoolie will play host to a holiday film from 1964 that is widely regarded as one of the worst movies ever made: "Santa Claus Conquers the Martians." The movie many feel is so terrible, it's great, will air at 3:00pm, with plenty of comments, jokes and bits from Sventa Claus. The U-Too can be seen on WCIU-TV's sub-channel 26.2.
* * Although it has been common knowledge since October, ABC-TV's President of News Ben Sherwood finally officially
announced
that former WMAQ-TV sports anchor Paula Faris has joined the network as the new co-anchor of "World News Now" and "America This Morning." Starting January 2nd, she will work alongside Rob Nelson at the overnight ABC anchor desk, as well as occasionally contributing to "Good Morning America" and other ABC News programs. ABC's overnight news program has been a positive stepping-stone for many news people, including Anderson Cooper. Faris, who just recently exited from WMAQ-TV at the end of her contract, first joined the station in November 2005.
* * Best wishes to Carol Marin, who is still recovering from knee surgery from the start of this month. The Political Editor for WMAQ-TV and political columnist for the Chicago Sun-Times hopes to be ready to spend time on her repaired knee at the start of next month for the Iowa caucuses.
* * Chicagoland Radio & Media would like to wish all of its readers & visitors a very Merry Christmas, a Happy Hanukkah, a Cool Kwanzaa, and even a fantastic "Festivus for the rest of us." While this website and its Message Board will remain open 24/7, the news reports for the next week will very light until the big 2011 year-end wrap-up article. Happy Holidays and thank you all so very much!