Details

Published on Wednesday, 29 February 2012 14:52
With the sad news today of the passing of 1960s musical and cultural phenomenon Davy Jones, Chicago-based classic television network Antenna TV has altered its upcoming weekend programming to salute Jones. The network will be doing this by showing a non-stop marathon of every single episode of "The Monkees," along with the Monkees' movie "Head."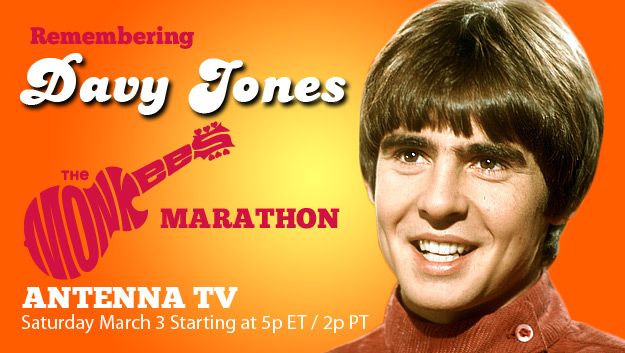 Tribune Broadcasting-owned Antenna TV, which airs locally on WGN-TV's digital sub-channel, will begin its all-Monkees weekend starting Saturday, March 3rd, at Noon. The Monkees weekend kicks off with the 1968 psychedelic movie "Head," airing from 12:00pm-2:00pm. Then, starting at 4:00pm, the complete 58 episode series of "The Monkees" will begin. At 9:00pm Sunday night, an encore showing of "Head" will bring the Monkeethon to its conclusion.
Davy Jones died earlier today at the age of 66 in Indiantown, FL, where he lived, reportedly of a massive heart attack. Jones skyrocketed to international fame beginning in 1965 when he was selected as one of the four members of TV-created rock/pop band, The Monkees. The Monkees' television show was a major success, as were the singles and albums for the band. In fact, at one point in the later 1960s, The Monkees were outselling The Beatles. Jones, with his long hair, youthful appearance, and British accent, became one of the biggest teenage heartthrobs of the 60s and into the early 70s. He went solo in 1970, continuing to make music and did numerous appearances on television shows and movies. On and off since the early 1980s, Jones would reunite with other members of the Monkees for tours and recordings.
Jones is survived by his wife, Jessica, and four daughters from his previous two marriages.
Antenna TV can be seen in the Chicago area over-the-air on WGN-TV 9.2, as well as on the cable channels Comcast 353, RCN 29, WOW 197, Mediacom 108, and Charter 967.