Details

Published on Tuesday, 11 September 2012 18:10
In tonight's News & Notes, plenty of local media news items, including: WMAQ-TV upgrades its set; WTTW-TV prepares to give up master control; Comcast SportsNet Chicago adds a new anchor/reporter; Lauren O'Neil adds to her resume with a TV job; Veronika Moroian gets a promotion; The Sun-Times makes a "Splash" on the Internet; Nina Chantele makes a "Splash" of her own; Tommy Edwards hangs out with a race car driver; Geoff Pinkus wants to help you shed the pounds; joyous news for Ryan Wild; and incredibly sad news for Cisco Cotto. All of the details are right here...
* * At the end of February this year, WMAQ-TV unveiled its new newscast set with a great deal of fanfare -- the first major set change for NBC 5 since 2008. Just over six months later, WMAQ-TV has changed the set once again. The nine multiple monitors are gone from behind the anchor desk, replaced by plasma wall monitors measuring 20' feet wide, which will show a live camera shot of downtown Chicago. The separate NBC 5 Weather Center area has also been upgraded, with added wood paneling. As was the set from earlier this year, the new additions and changes to the set were designed by Clickspring Design. As she did in February, WMAQ-TV anchor Alison Rosati gave a video tour of the upgraded set, which can be seen
HERE
.
* * WTTW-TV announced that it has become a founding member of the new Digital Convergence Alliance (DCA) and that the station has been actively involved with the creation of the operation, including granting $7 million to it. The DCA will be a "master control centralcast facility" overseeing the operational control of WTTW-TV's broadcasts, as well as those of numerous other public broadcasting television stations nationwide. DCA operations are scheduled to begin early next year and are based out of Jacksonville, FL's WJCT-TV.
* * Comcast SportsNet Chicago has brought on a new anchor/reporter as of this week: Nicole Darin. She comes to Chicago from WTSP-TV in Tampa, FL, where she was a sports anchor/reporter for a little over a year. A Bronx native and die-hard Yankees fan, she has worked in a few markets in her six-year TV sports reporting career, including Charlotte, NC, Rock Hill, SC, Bemidji, MN, and Colorado Springs, CO -- growing in market size with each career move she made. Darin graduated cum laude with a degree in Broadcast Communications from the University of Colorado in Colorado Springs. For right now, Nicole Darin is a freelance hire for Comcast SportsNet Chicago and not yet a full-time employee, much like how the station is utilizing Susannah Collins.
* * WLFM-LP/Q87.7's Lauren O'Neil can now be seen, as well as heard. She is now a new TV host, having joined the staff at NBC Chicago Nonstop's JBTV.
* * Veronika Moroian was promoted to Vice President and Director of Sales for Univision's two Chicago television properties, WGBO-TV/Univision Chicago and WXFT-TV/Telefutura Chicago. She most recently worked as the National Accounts Manager for both Chicago stations. Moroian, a native of Buenos Aires, Argentina, has been with Chicago's Univision stations since July 2007 and with the company since November 2003.
* * Last Sunday, the Chicago Sun-Times debuted its new separate 24-page
Sunday Splash section
. This week, it also debuted the new separate
Splash website
. The new website and Sunday magazine are all part of Sun-Times Media's plan to make Splash a multi-media product, enjoyable on many platforms and levels.
* * Speaking of Splash... The Chicago Sun-Times has added yet another media personality to its growing line-up of columnists to the Splash section. The newest addition is Nina Chantele, heard on the radio on WGCI-FM and WKSC-FM, as well as seen on television on WLS-TV's "Windy City Live." Her first column for Splash can be read
HERE
.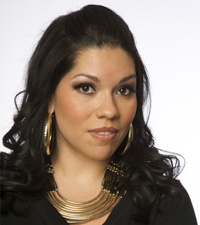 * * On Thursday from 5:00pm-7:00pm, WJMK-FM's midday host Tommy Edwards will be at the K-Hits tent, set up at the Meijer in Bolingbrook (755 E. Boughton Road). Joining him will be former Indy 500 winner and current NASCAR star driver, Sam Hornish, Jr. Fans of both men are encouraged to stop by and say hello.
* * On Saturday, WIND-AM's Geoff "The Pinker" Pinkus will kick off his new weight loss business with the first-ever two-day "Man Diet Bootcamp" event. This weekend, Saturday from 8:30am-3:45pm and Sunday from 8:30am-3:00pm, Pinkus will be hosting the weight loss seminar at The Garlands in Barrington (1000 Garlands Drive), outlining the principles of the Geoff Pinkus Man Diet. Speaking at the event will be Dr. S. Andrei Ostric, aka "Dr. O," the person who created the diet. Also appearing will be Christopher Foltz and Chicago sports talk legend Chet Coppock. Tickets can be purchased in advance
HERE
. More information can be found on the new
Man Diet Center website
and on the
Man Diet Facebook Page
.
* * Congratulations to WZSR-FM/WWYW-FM Operations Manager/Program Director/DJ Ryan Wild. He and his wife, Sandy just welcomed in their second child earlier today, an over 8 lb baby boy named Bailey. He will join his big sister Grace at home in a few days. Best wishes to the growing Wild family!
* * Deepest condolences to former WMAQ-AM/WIND-AM/WLS-AM personality Cisco Cotto on the death of his father. Victor Cotto passed away late last week at his home in Sugar Grove, IL at the age of 73.