Details

Published on Thursday, 01 November 2012 17:06
Later this month, Comcast SportsNet Chicago will broadcast a very special two-part documentary entitled "From the Sports World to the Third World: A Journey to Cambodia," which details the incredible story of two Chicago sports industry veterans -- Chicago Bulls Senior Director of Ticket Operations Joe O'Neil and Bulls/Blackhawks/Bears team photographer Bill Smith -- and their astonishing, ongoing efforts to better the lives of hundreds of helpless children and their families in poverty-stricken Cambodia.
"From the Sports World to the Third World: A Journey to Cambodia" is the follow-up documentary to "Bill Smith: Lasting Impressions," Comcast SportsNet's Emmy-nominated special from 2010 that introduced viewers to Chicago sports photographer Bill Smith and his wife Lauren, who make annual trips to Cambodia.
Bill Smith w/ Cambodian girl
In 2002, Bill and Lauren Smith's lives were transformed during their annual trip, when their tour guide suggested they visit with some Cambodian children. The Smiths then witnessed the heart-wrenching sight of children and their families living in dilapidated shacks and spending their days scavenging in garbage dumps. The Smiths immediately sponsored some of the young children, moved them out of the dump, and arranged to send them to school. It was a kind gesture, but didn't help enough of those in dire need.
Bill Smith, along with his good friend Joe O'Neil and their wives, began holding fundraisers in the Chicago area to assist more Cambodian families and children living in poverty & filth, with the goal of opening children's centers where these needy children could live. Over time, Smith & O'Neil were able to generate consistent donations and formed a foundation called "
A New Day Cambodia
," a 501c3 non-profit organization and a verified NGO (Non-Government Organization) in Cambodia. A New Day Cambodia's goal is to provide shelter, food, and education to those in need within that country.
A little over three months ago, CSN Chicago sent CSN anchor/reporter Chuck Garfien, CSN photographer/multimedia producer Matt Zickus, and CSN associate producer Justin O'Neil to Cambodia to witness for themselves the horrific garbage dump conditions and extreme poverty situations the locals live with each day, as well as being able to experience firsthand Smith and O'Neil in action, as they do all they can to help as many as they can.
Garfien and the CSN crew followed Smith and O'Neil to the dump, where they found four new children living there. Together, they brought the children to the A New Day Cambodia center, where they could recover from their living situation and prepare for a positive change of direction in their lives. The CSN crew also were able to talk with many of the children who have benefited from Smith & O'Neil's tireless efforts and are now on the path towards a better life.
Within the "From the Sports World to the Third World: A Journey to Cambodia" documentary, Bill Smith talked about the promise of hope in the eyes of the children his center has aided, saying "When you come back (to the center) three or six months later, the look and sparkle in their eyes is just the biggest difference... their eyes... hopelessness becomes hope for a future, and it's not just that they are clean, they have a whole different persona. They hold their head higher, they have pride, they can take care of themselves and feel more human than they were before."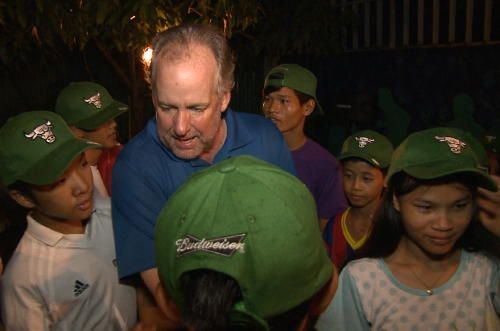 Joe O'Neil w/ Cambodian children
Also within the special presentation, CSN's Chuck Garfien talked about his experience in Cambodia, saying: "Think of the worst poverty-stricken areas in the U.S., then multiply that by fifty. That's where these children came from. But now, kids who once had no hope in life, now have realistic dreams of becoming doctors, lawyers, artists, political leaders and teachers. We interviewed Chen Sokha who once lived on the side of the road with her brother for six months. Bill found her in the garbage dump about 5 years ago. She now goes to one of the best academies in Cambodia, was recently featured in Newsweek magazine and has met Michelle Obama and Hillary Clinton. Another girl wants to be the first female prime minister of Cambodia. It's easily one of the most profound, impactful stories I have ever covered or experienced."
The moving Comcast SportsNet Chicago documentary, "From the Sports World to the Third World: A Journey to Cambodia," will be presented in two parts. Part I will premiere on Tuesday, November 13th at 7:00pm, while Part II will premiere on the following night, Wednesday, November 14th at 7:00pm. Both parts of the documentary will also have re-arings at various times over the next month and a half, including these following dates/times: November 18 (Part I at 7:00pm, Part II at 7:30pm), Thanksgiving Day/November 22 (Part I at 7:00pm, Part II at 7:30pm), November 29 (Part I at 12:30pm), November 30 (Part II at 12:30pm), Christmas Eve/December 24 (Part I at 10:30pm) and Christmas Day/December 25 (Part II at 10:30pm).
"From the Sports World to the Third World: A Journey to Cambodia" was produced and edited by CSN Chicago's Emmy Award-winning producer Sarah Lauch.
Joe O'Neil said in a statement: "The board of directors of 'A New Day Cambodia' is thrilled that Comcast SportsNet visited Cambodia to see our accomplishments. The CSN crew was present as we marked our five-year anniversary since opening our first center. One hundred children who previously scavenged garbage 10-12 hours a day now attend school full-time, speak English and have opportunities that never previously existed. We are excited that Comcast SportsNet will tell our story to help our visibility and awareness."
In addition to the two-part television special presentation, Comcast SportsNet Chicago is setting up a webpage on its website, dedicated to this cause. It will feature video footage from the television version of "From the Sports World to the Third World: A Journey to Cambodia," as well as "web-exclusive" video excerpts not shown on TV, a photo gallery from the CSN crew's July trip to Cambodia, behind-the-scenes commentary from Chuck Garfien, a link for viewers to make a donation to A New Day Cambodia. That special webpage will be able to be seen
HERE
.
Those wishing to learn more about the foundation, A New Day Cambodia can do so at this link
HERE
.